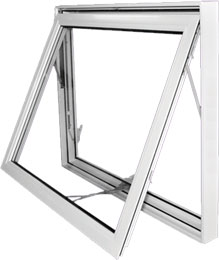 High Efficiency Awning Window
High efficiency windows are one of the crucial elements of the comfortable and safe house. So, if you decided to replace the old windows with something not only modern but functional as well you should think over the proper choice thoroughly.
From our part, we would like to give you a useful piece of advice and recommend you choosing awning windows which are very popular nowadays due to their high quality and ease of use.
Awning window will be an elegant solution for your home providing the same functionality features as casement windows.
Awning windows usually used on a wider opening to avoid splitting to two windows to have large glass area, wider view and can be kept open when it is raining. Usually awning windows is a great option for kitchen windows.
Thus, you will get a well-designed window possessing ventilation and shielding options as well. The awning windows are created from totally lead-free uPVC powder compound which raises the resistance to various impacts and losing of color. Moreover, such windows will not be damaged by cracking, warping or blistering, and they also don't need any maintenance.
Total Home Windows and Doors offers you the best awning windows in Toronto assuring you will get the items of the highest quality. Just imagine, how much comfort, light and safety you will add to your house choosing these windows– flexible, resistant, durable and aesthetic . All our awning windows are equipped with exclusive top quality ROTO hardware.
If you are sure of your choice in favor of the awning windows, feel free to contact our experts, and we will immediately process your order. We know that modern design leaves not much place for the awning windows nowadays, but still we are ready to provide you with this unbeaten item whenever you may need it. Whatever the trends are, a good old awning window will always remain nice and functional solution for any house!

FEATURES
Multichamber Windows.These windows are made from an exclusive, 100% uPVC powder compound that is entirely lead-free. This special compound gives the system a better resistance to impact and discoloration. The windows are maintenance-free and will not crack, blister or warp. Learn more>>>.
Triple Glazed Argon
3mmClr / Argon90 / 3mm LowE
LOF S#3,5
Overall U-Value: 1.41
SHGC (Solar Heat Gain Coefficient): 0.39
Visual Transmittance: 0.40
Energy Rating: 31

Double Glazed Argon
4mmClr/ Argon90 / 3mm LowE
LOF S#3
Overall U-Value: 1.60
SHGC (Solar Heat Gain Coefficient): 0.45
Visual Transmittance: 0.47
Energy Rating: 31
Triple Glazed Krypton
3mmClr / Krypton90 / 3mm LowE
LOF S#3,5
Overall U-Value: 1.17
SHGC (Solar Heat Gain Coefficient): 0.39
Visual Transmittance: 0.40
Energy Rating: 36