Exterior Doors Toronto

We design, build and install custom doors according to your individual requirements
Note to Our Customers About COVID-19
EXTERIOR DOORS FROM TOTAL HOME
Our exterior door collections are presented by fiberglass and steel models in contemporary and traditional styles. We offer infinite entrance design possibilities and our doors integrate very well into various architectural concepts.
We constantly expand our collections, develop new designs, and provide customers solutions, Whether you need a classic, welcoming, never going out of style entry door or make a bold avant-garde statement with your entrance - we have the right door just for you and your budget.
Finest materials, advanced equipment, superior level of craftsmanship make it possible for us to build highest quality exterior doors - doors that last for years without any special maintenance, doors that will keep your home insulated, safe and beautiful.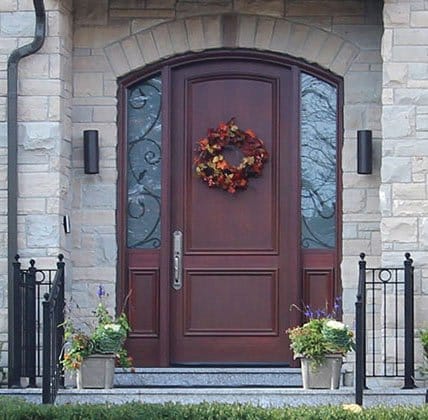 Beautiful
We offer infinite entrance door design possibilities that will contribute to the beauty and value of your property. Total Home exterior doors are presented by the stunning range of steel and fiberglass doors that are individually designed and manufactured to your specific requirements. Modern or traditional styles, reach woodgrain or smooth surface, decorative or textured glass, all contribute to creating your unique and stylish exterior door.
Strong
Doors need to hold up to whatever life throws at them. Besides the aesthetics of a door system Total Home understands the importance of durability and performance of our door products. Our exterior doors feature the components that are designed for durability and peace in mind, ensuring the best performance of your door system for years to come.
Energy Efficient
Our exterior doors meet ENERGY STAR 2020 requirements. We achieve the exceptional thermal performance by insulating the door slabs with a high-density polyurethane foam. Our doors are equipped with the airtight seal, heavy duty weatherstriping and the anodized aluminum-clad sweep to prevent leaks from coming through the door.
Choose your exterior doors following these 4 simple steps
STEP 1

Get Inspired / Design your entrance
Your front entrance reflects your home personality and character. Take the time to look at our options and choose the products that best represent you.
Work with your front entrance's dimensions and openings to decide on your door configuration. Will there be a sidelite, or maybe double-doors, or you may like the look of a door with two sidelites?
We're here to help! Get design advice from a Total Home consultant.

STEP 2

Choose your entry door - the material and style
TH offers unique entry doors with outstanding durability and energy efficiency. Our steel and fiberglass products will add warmth and beauty to your home.
Select your door from our steel or fibreglass collections.
Our premium steel doors feature a smooth texture that offers tranditional , transitional and modern look with enhanced weather resistance and durability.
Our fibreglass doors are strong and resilient with an authentic woodgrain texture that closely resembles real wood. Whether you prefer traditional or modern styles, we have an option to match your taste.
STEP 3

Choose your door glass size and design and add the door glass design to your door
Show off your unique personality and add sophistication to your home's entryway with decorative door glass. Whether you are looking for a decorative glass or wrought iron, full or half glass, we can manufacture a design from our existing catalogues or we can custom make a glass design to suite your taste and style.
Choose glass category: Classic, Contemporary or Modern Textured.
Choose Glass Type - Wrought Iron, Stained Glass or Frosted Glass.
Choose glass size. Add your glass design to your selected door.
STEP 4

Choose your door color or stain. Choose the hinge and lock finish
Choose your entry door perfect stain or paint color.
Select your door color or stain that stands out from the rest of the house. Dare to finish your modern steel door in an eye-catching color that will give your home its very own signature look. Give your fiberglass door a beautiful finish, select your stain in deep and rich shades of beautiful dark reds and browns.
Add decorative stainless-steel accents to create a bold addition to your contemporary door.
Choose the hinge and lock finish from available finish colors that best suits your selected door style and color.

We would be happy to help you choose an affordable option to increase the value of your wonderful home
Call Us Today! 416-661-6666

Fiberglass Doors
Steel Doors
Wrought Iron Collection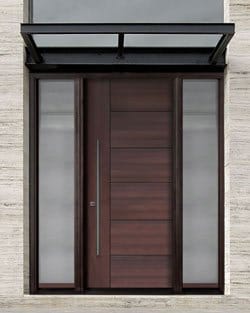 Mennie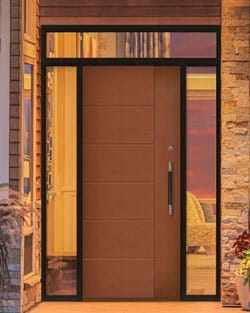 Richersons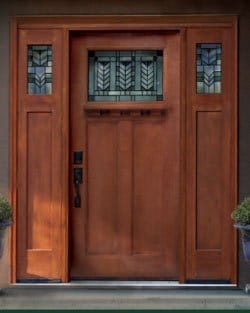 Richersons
Steel Doors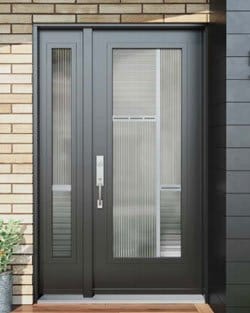 Novatech
Wrought Iron Collection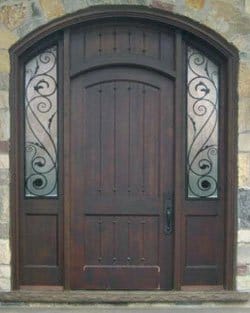 Miliano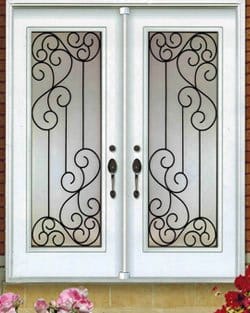 TH Wrought iron Collection
15+
YEARS of EXPERIENCE
12000+
INSTALLATIONS
9.9/10
HAPPY CLIENTS