Exterior Doors Toronto

We design, build and install custom doors according to your individual requirements
Exterior Doors Replacement From Total Home
Our exterior doors collections are presented by fiberglass and steel models in contemporary and traditional styles. We offer infinite entrance design possibilities and our doors integrate very well into various architectural concepts.
We constantly expand our collections, develop new designs, and provide customers solutions, Whether you need a classic, welcoming, never going out of style entry door or make a bold avant-garde statement with your entrance – we have the right door just for you and your budget.
Finest materials, advanced equipment, superior level of craftsmanship make it possible for us to build highest quality exterior doors – doors that last for years without any special maintenance, doors that will keep your home insulated, safe and beautiful.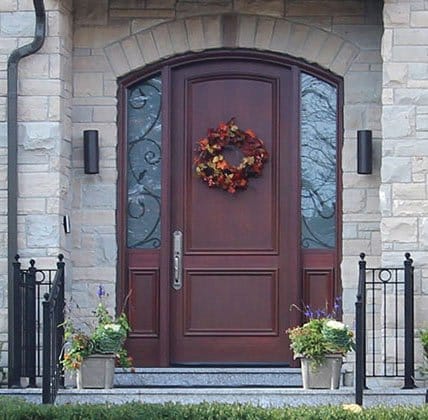 Beautiful
We offer infinite entrance door design possibilities that will contribute to the beauty and value of your property. Total Home exterior doors are presented by the stunning range of steel and fiberglass doors that are individually designed and manufactured to your specific requirements. Modern or traditional styles, reach woodgrain or smooth surface, decorative or textured glass, all contribute to creating your unique and stylish exterior door.
Strong
Doors need to hold up to whatever life throws at them. Besides the aesthetics of a door system Total Home understands the importance of durability and performance of our door products. Our exterior doors feature the components that are designed for durability and peace in mind, ensuring the best performance of your door system for years to come.
Energy Efficient
Our exterior doors meet ENERGY STAR 2020 requirements. We achieve the exceptional thermal performance by insulating the door slabs with a high-density polyurethane foam. Our doors are equipped with the airtight seal, heavy duty weatherstriping and the anodized aluminum-clad sweep to prevent leaks from coming through the door.
Choose your exterior doors following these 4 simple steps
Step 1

Get Inspired / Design your entrance
Your front entrance doors reflects your home personality and character. Take the time to look at our options and choose the products that best represent you.
Work with your front entrance's dimensions and openings to decide on your door configuration. Will there be a sidelite, or maybe outside double-doors, or you may like the look of a door with two sidelites?
We're here to help! Get design advice from a Total Home consultant.

Step 2

Choose your entry door - the material and style
TH offers unique entry doors with outstanding durability and energy efficiency. Our steel and fiberglass products will add warmth and beauty to your home.
Select your outdoor doors from our steel or fibreglass collections.
Our premium steel doors feature a smooth texture that offers tranditional , transitional and modern look with enhanced weather resistance and durability.
Our fibreglass doors are strong and resilient with an authentic woodgrain texture that closely resembles real wood. Whether you prefer traditional or modern styles, we have an option to match your taste.
Step 3

Choose your door glass size and design and add the door glass design to your door
Show off your unique personality and add sophistication to your home's entryway with decorative door glass. Whether you are looking for a decorative glass or wrought iron, full or half glass, we can manufacture a design from our existing catalogues or we can custom make a glass design to suite your taste and style.
Choose glass category: Classic, Contemporary or Modern Textured.
Choose Glass Type – Wrought Iron, Stained Glass or Frosted Glass.
Choose glass size. Add your glass design to your selected door.
Step 4

Choose your door color or stain. Choose the hinge and lock finish
Choose your entry door perfect stain or paint color.
Select your door color or stain that stands out from the rest of the house. Dare to finish your modern steel door in an eye-catching color that will give your home its very own signature look. Give your fiberglass door a beautiful finish, select your stain in deep and rich shades of beautiful dark reds and browns.
Add decorative stainless-steel accents to create a bold addition to your contemporary door.
Choose the hinge and lock finish from available finish colors that best suits your selected door style and color.

We would be happy to help you choose an affordable option to increase the value of your wonderful home
Call Us Today! 416-661-6666

Fiberglass Entry Doors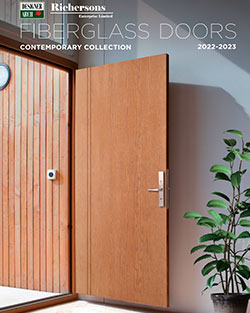 Richersons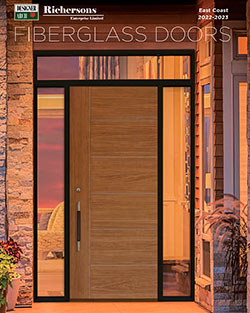 Richersons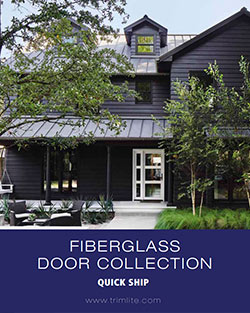 Trimlite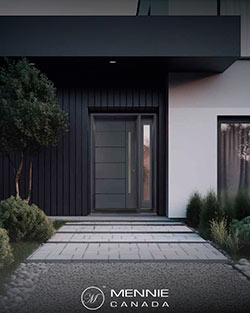 Mennie
Steel Doors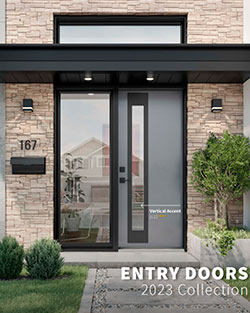 Novatech
Front Door Glass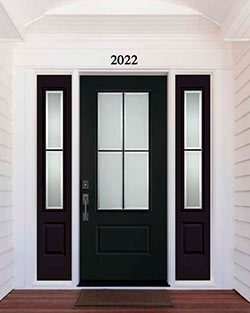 Trimlite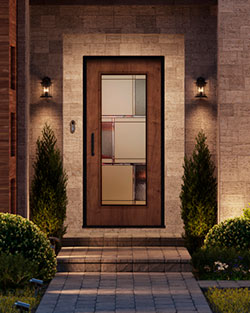 ODL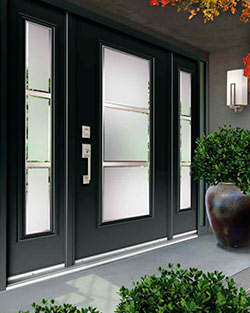 Fusion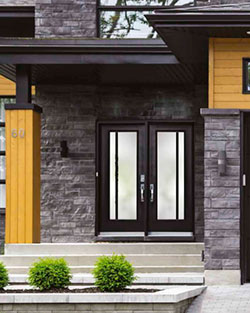 Verre Select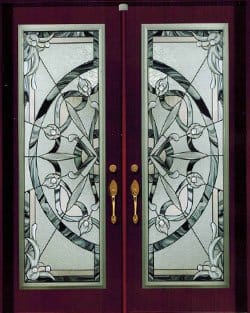 TH Decorative Glass Collection
Wrought Iron Collection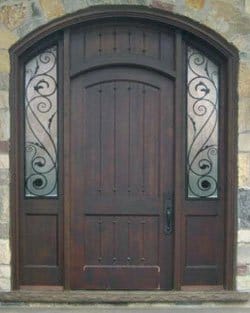 Miliano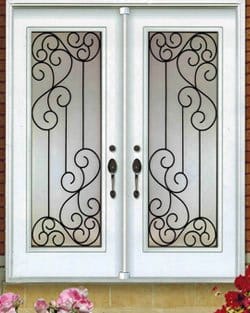 TH Wrought iron Collection
Entry Doors top questions we receive from our loyal customers
Which is better: steel or fiberglass front doors?
Steel entry doors provide the best home security as their inner frame is made of wood or steel, making them extremely durable and structurally sound. They are highly energy efficient as they are filled with foam insulation. that the addition of glass panels will take away from their insulation properties.
Fiberglass front doors are a popular choice as they are extremely affordable. They are best known for their superior insulation properties. Fiberglass entry doors are virtually maintenance free as they are dent resistant. However, they can crack from harsh weather conditions or severe impact. Adding Multipoint Lock can help prevent this.
Does decorative glass offer privacy?
Decorative glass additions to your entry door gives your home a unique aesthetic appearance. However, it may alter privacy if you don't choose the right style. Total Home Windows and Doors offers a wide selection of decorative glass with Glass Privacy Level ratings, which are rated between 7 and 10, with 10 being completely obscure. These are available in sidelights, transom and double and single front entry door systems. The more intricate the details, the lower the privacy value. The obscure glass designs are offered in three textures that offer complete privacy. For enhanced privacy, homeowners often install mini-blinds that can be tilted, raised or lowered as desired.
Which lock system provides the best home security?
Home protection is top priority for homeowners, so they will love the Total Home Multi-Point Lock System that is provided with our exterior doors. Upon shutting, a 20 mm latch bolt will automatically lock the door. A quick turn of the key will engage the deadbolt as well as activating the bottom and top latch bolts. This is known as the 3-point deadbolt locking system.
Also included:
Fits 6′-8″ and 8′ doors
Ability to reverse non-handed latch
Without lifting the handle, locking points engage
10-20 mm latchbolt projection provides security against forced intrusion
Reinforced locking system return with durable mortise construction
Prevents warping
Is a patio or garden door the better choice for my home?
Garden entry doors are designed to swing open like regular entry doors and are equipped with deadbolts for security. To increase energy efficiency, they can be equipped with double or triple pane gas, low-E coatings, weatherstripping and filled with argon gas. Privacy glass with mini blinds provides privacy.
Patio doors are designed to slide open on a track system, which prevents children and pets from easily escaping unseen. Mini blinds can add a sense of privacy while low-E coatings enhance energy efficiency. The large glass area on sliding patio doors allows for maximum sunlight and helps bring the outdoors in.
At Total Home Windows and Doors, we know that it can be overwhelming trying to choose the right style for exterior door replacement. There are thousands of options to choose from including energy efficiency, safety features, hardware, glass options and materials.
15+
YEARS of EXPERIENCE
15000+
INSTALLATIONS
9.9/10
HAPPY CLIENTS