Window Replacement Cost Toronto & GTA
Toronto
Window Replacement & Installation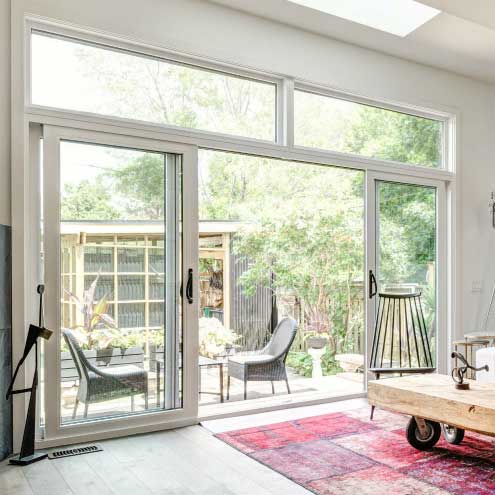 Total Home Windows and Doors is a professional company that provides windows replacement in Toronto supply and as well supply and installation services. Here at Total Home, we offer exclusively high-quality vinyl windows from best materials at the market. As important as the quality of the product, is the quality of the installation. Our team of experts has the skills and knowledge necessary to ensure your replacement windows are installed correctly and efficiently. No matter whether it is a residents order or a renovation project for the whole house, you can entrust this task to us. Call our professional window replacement experts at (416) 661-6666 for a free, no-obligation, in-home estimate today!
How much does window replacement cost in Toronto, Ontario?
The average price of new windows is $750 per window, with a range from $650 to $4,000 or even 6000 for bay/bow window.
Windows cost in Toronto may seem high for GTA at first glance, but when you consider how much you'll save on energy costs, how much it will increase your curb appeal, how it helps the environment, and how much more comfortable your home will become, replacing your windows is easy to justify.
See our prices: 
Prices for replacement windows in Toronto: 
| Window Type | Avg. Price Min | Avg. Price Max |
| --- | --- | --- |
| Bay/Bow | $2500 | $6000 |
| Casement | $390 | $950 |
| Awning window | $390 | $950 |
| Sliding window | $260 | $790 |
| Single hung window | $270 | $850 |
| Window Location | Avg. Price Min | Avg.Price Max |
| --- | --- | --- |
| Kitchen | $350 | $850 |
| Living Room | $1200 | $2500 |
| Bedroom | $450 | $1200 |
| Basement | $250 | $650 |
| Basement Egress | $1500 | $4000 |
Maybe you're planning a major renovation or maybe you just want to improve the efficiency and comfort of your home. Either way, you can get more than you think out of vinyl window replacement.
This home renovation project is always a wise decision, but you're going to need to choose the right windows and doors company to work with. You want a good product, a good price, an educated experience, and peace of mind.
In short, Total Home Windows and Doors offers you window installation with a variety of styles and sizes to suit all of your needs for your home in Toronto and GTA.
Our Replacement Window Process
Working with the TH Windows and Doors window replacement company in Toronto and surrounding area is easy.
1. Call us at 416-661-6666 (or fill out the form, we'll call you) to schedule a home or business visit.
2. Our window service expert will perform measurements and determine the entire scope of the work.
3. You'll be presented with all the options and a complete understanding of the work being performed.
4. Our replacement windows team returns to perform the work, and you have new windows installed.
Window Cost Calculator
Why Replacing Windows
Is Worth It
Save Money: Replacing your windows today means avoiding standard inflation. Doing all of them at once gets the job done in one pass, avoiding inflated labor hours. This all adds up to more money in your pocket. But wait, there's more. It will insulate your home better, saving on your monthly energy bills. This also improves the efficiency of your entire HVAC system, avoiding costly equipment repairs.
Curb Appeal: New windows bring more light into your living space. They make your home appear well taken care of, new, and clean. They make each room more comfortable and joyful to be in. Plus, they will attract more homebuyers, who are very aware of how valuable new windows are, making a purchase that much more appealing.
Comfort & Design: Why let someone else enjoy your investment? If you are planning on staying put or you've just purchased a new home, the time to replace your windows is NOW.
The longer you put it off, the more it will cost. Start saving today and enjoy sunlight, comfortable living spaces, and a style that's all your own.
Efficiency & The Environment: Window technology has come a long way. Once you replace your windows, you'll notice your air conditioner and furnace kicking on far less often. The rooms you spend your time in will be quiet and maintain a consistently comfortable temperature. Using less energy is good for your wallet and the environment.
Warranty: Worried about aesthetic defects or window mechanisms not working as they should? Don't. Most window manufacturers provide either an extended or lifetime warranty. Check the fine print and confirm how all your worries are taken care of. You're paying for a quality product, and you're going to get what you pay for.
Professional Installation: No broken glass or cracked frames. No drafty seams. No worrying about internal wall damage. No wondering if you're buying the right product. No having to buy the same thing twice or spend your valuable time. With professional window installation, you get peace of mind and a job well done.
 WINDOWS INSTALLATION IN TORONTO
There are a few telltale signs that you need to replace your windows. Some are fairly obvious, and some will creep up on you over time. Here are the 4 most common.
Damaged Frames: Is it just chipped paint, or is there something more going on there? Cracked paint is a sign that you should check out the condition of your windows. What about broken glass? These symptoms as well as fogged glass or warped frames are indicators that they are no longer performing as they should.
Fault Mechanisms: Is it getting harder to open and close your windows? Are your window's locks not working properly? These are just a few of the many small operating problems you could encounter. There's no need to put up with this. Solve all of these problems with new replacement windows.
Drafts & HVAC: If you can feel a breeze, your windows need to be replaced. Even if you don't physically feel a breeze you may notice that it's a little cooler than it should be or your HVAC system is kicking on too often. Replacing your windows will keep your rooms at the right temperature and save on energy and HVAC repair bills. As an added bonus, you'll be significantly reducing your carbon footprint.
Outside Noise: A good window provides good insulation. Damaged ones are the reason you hear that dog barking and your neighbors talking. Keep noise, cold air, and other undesirables on the outside with sturdy new windows.
How to Save Money on
New Home Windows Toronto
Replacement windows can save you more money than you think. We've already mentioned that you can save up to 40% on your monthly energy costs. You already know that new windows will lessen the load on your HVAC system, saving on the cost of repairs.
What you may not know is that you can save on window cost itself. Energy companies often offer rebates as an incentive to improve your home's efficiency. Depending on circumstances, you can find yourself saving up to $200 per window.
Ontario also offers an Energy Savings Rebate program, providing up to $5000 in rebates per household.
Frequently Asked Questions

About Windows

What time of year is best to Windows installation in Toronto?

Late spring through early fall is the most common period of the year to have replacement windows installed.
However, if cost savings is your priority, consider the winter months. A professional window installation company is familiar with how to protect your home from cold and damage, and modern materials work just as well in lower temperatures. Since this is the window installation off-season, discounts are likely available.

Should I replace all my windows at once?

If you can budget for it, YES!
When you replace all of your windows at once you reduce labor hours. That means less overall cost. Beyond that you're ensuring that all materials, styles, and designs match perfectly, and you'll start your energy cost savings all at once. It just makes sense.

Which option is cheaper when replacing windows?

The real answer is, it depends. Many homeowners choose to do an entire project all at once. But this is sometimes cost-prohibitive. Changing a few or even just a single window at a time will increase labor costs over time. But, the immediate cost is obviously much lower.
If this is the route you are taking, make sure to choose simple designs that will be easy to match in the future. Like most things in the renovation business, new designs and technology frequently replace last year's models. Make sure that you don't put yourself in the position of having to choose new windows that don't match or having to replace a perfectly good window.

How much Does it cost to replace windows in Toronto?

The cost of our windows varies, it depends on styles and sizes. It starts from 250 for a Basement window, and it may cost around 6000$ for Bay/Bow windows. You can calculate the exact price on our calculator.

Why are our Toronto windows better?

Made of long-lasting and sturdy materials, they provide you with the best quality and energy efficiency. They can easily withstand even the harshest Canadian weather conditions, creating a cozy atmosphere with a steady temperature inside your house. What is more, the warranties we offer are the best on the market, as they cover not only the products but the work as well.

I live in Barrie and you operate in Toronto, can I still get a quote?

Sure! Even though the majority of our projects are for replacement windows in Toronto, we provide our services anywhere in GTA. So wait no longer to book a free-of-charge consultation with us so that we could provide you with a quote and the best possible solution for your home renovation needs.

Are your windows energy-efficient?

They are not only energy-efficient but also Energy Start certified, which speaks for itself. Made with the DraftLock™ technology, they will allow you to save as much as 23% on your utility bills annually. Because there are no air leaks and drafts in the house, your HVAC system will not have to work harder, thus extending its service life.

DO YOUR WINDOWS HAVE A LIFETIME WARRANTY? 

Yes! Ordering new windows in Toronto from us, you are guaranteed a lifetime warranty on the best available terms and conditions to you. On top of that, you will be pleased to know that we provide a transferable warranty for all of our products and services, from door manufacture to window installation. So, call us to learn more about your options.

I LIVE IN A VERY OLD HOUSE IN DOWNTOWN TORONTO. WILL THE QUOTE BE THE SAME AS IF I LIVED IN A NEW HOME? 

The final quote is affected by multiple factors, with the age and overall condition of the house being the most crucial. Because the size of the windows on older houses, constructed over a hundred years ago, maybe nonstandard or irregular, your replacement items should be custom-made to fit the openings to an inch. That is why your quote should be customized individually as well.

DO YOU HAVE A WINDOW SHOWROOM TO VISIT IN TORONTO?

Yes, the doors of our showroom are open to everyone in Concord, Toronto. You can also request a catalog of samples and images of the window and door units that you can order from us. So, feel free to pay us a visit and look around the showroom from Monday to Saturday during the hours posted on our website or better give us a call to make sure we are receiving visitors.

ARE THERE ANY DISCOUNTS FOR SENIORS IN TORONTO?

Of course, we take care of our senior customers so they may expect to receive a 10% discount on their total order, including the cost of the purchased items and the expenses on installation services. Therefore, if you are over 60 years old, do not hesitate to claim your discount, which will be added to other savings on your purchase.
How the Type of Window You Chose Can Help Determine the
Average Cost to Replace Windows in a Home
Casement Windows
Average Cost Range (per window) 390$ – 950$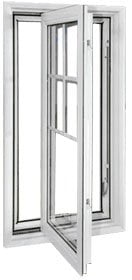 This is one of the most popular choices for Canadian homeowners who are looking to save money on the average price to replace windows in their home. They are and can be designed to fit any structure or space. As well, they have many benefits.
Ease of operation:

Not only do they open and

close easily with a crank mechanism, but they are also easy to clean and require little to no upkeep or maintenance

. Their hinge system allows for maximum ventilation and light exposure.
Energy Efficiency: As they are designed of sturdy glass and secure frames, casement windows are extremely energy efficient. They are designed for a snug and secure fit to prevent air leakage as well as condensation. This can reduce your annual energy costs as these windows provide superior insulation year round. They will keep heat and humidity from entering your home during the summer. In addition, they keep frigid are out of your home in the winter.  The saving on your energy bill alone makes the window and frame replacement cost worth the investment.
Security: As they are designed with durable glass and lock mechanism,

it makes them

a premium choice when it comes to home security. Home security is an important factor to remember when considering replacing old windows cost.
---
Awning Windows
Average Cost Range (per window) 390$ – 950$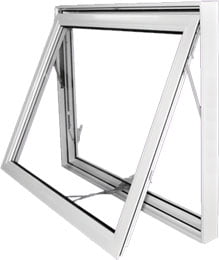 Awning windows are very stylish and modern, so they are becoming quite trendy among Canadian homeowners. As you will see below, they have many features that make them an attractive and practical choice when factoring the cost to replace windows.
Energy Efficiency: They are designed with a transparent glaze that seals the glass to protect your home from drastic weather conditions. As well, they are equipped with spacers to conduct low heat to maintain a steady year-round temperature in your home. In addition, inert gases can be inserted in between the glass panes to aid with energy efficiency.
Security: As they can be equipped with sturdy and durable hardware and locking mechanisms, this is a wise choice to protect your home from unwanted intruders.
Ventilation: As they open outward, awning windows provide superior ventilation to your home. If you enjoy a cool breeze and fresh air, these windows are the optimal choice!
---
Bow and Bay Windows
Average Cost Range (per window) 2500$ – 6000$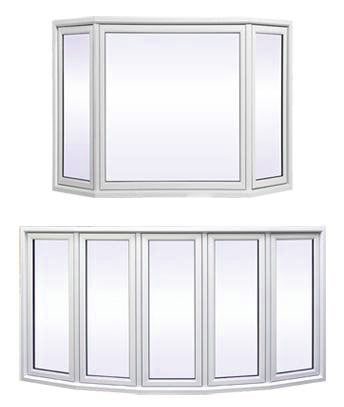 Bow and bay windows are a great addition for your Toronto area home. They give an outstanding view of the outdoors and can open up any room of your home. They can be designed, so they will be the focal point of a room.
Bow windows normally are designed of at least four pieces as opposed to bay windows which are normally a three-window design at a protruding angle. Both of these window types are great for those who wish to allow maximum sunlight to enter their home. It is important to keep in mind that they are designed with fixed panes so they cannot open or close as do other window types. This could be a key factor to consider in your replacement cost per window.
Benefits of Bow and Bay Windows:
Insulated with spaces to prevent condensation and thus help lower your energy bills.
Designed with sturdy glass and tightly sealed to reduce noise pollution
Allows maximum sunlight exposure to light up any room of your home
Provide an unobstructed view of the great outdoors
Elegant and stylish for a stunning focal point for any room.
---
Single and Double Hung Windows
Average Cost Range (per window) 270$ – 850$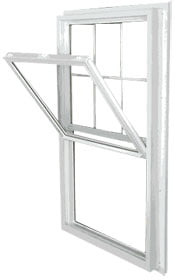 For those who prefer a more traditional look for their GTA home, single and double-hung windows are a great choice. They provide excellent insulation and home security, with comprising the style of your home. If you want a classic look, this is a good solution when it comes to the cost of replacing windows.
Both single and double hung windows open and close vertically. The main difference is that a single pane only opens via the lower half. As they tend to be prone to air leakage, double and single pane windows are not as popular as other window types. However, they are still designed to be sturdy and secure. They are made of solid glass and come equipped with strong locking features, so they are a prime choice for home security.
Benefits of single and double hung windows:
Low condensation factor
Outstanding protection from the elements during harsh weather conditions such as rain, sleet and snow.
Easy to operate
Low maintenance and easy to clean
Screens are easy to remove
Reduce noise pollution
Provide superior ventilation and sun exposure
We would be happy to help you choose an affordable option to increase the value of your wonderful home
Call Us Today! 416-661-6666
Benefits of Vinyl Windows:
1 Vinyl windows are highly durable and sturdy. Thus, they will last for many years and require little to no maintenance as they are UV, scratch and stain resistant.
2 Today's vinyl windows are available in a wide array of finishes and colors, which gives you the option to have them customized to meet your style needs.
3 As vinyl replacement windows are easy to install, they will not require expert know-how to put them in if you cannot afford a professional contractor or wish to do your home renovations yourself.
4 Vinyl windows have a higher R-value, so they are perfect for those who wish to reduce noise pollution.
5 Highly energy efficient, they have superior insulation properties because they are constructed of polyvinyl chloride material, or PVC.
15+
YEARS of EXPERIENCE
15000+
INSTALLATIONS
9.9/10
HAPPY CLIENTS