Window Replacement Cost Toronto & GTA
Toronto Window Replacement & Installation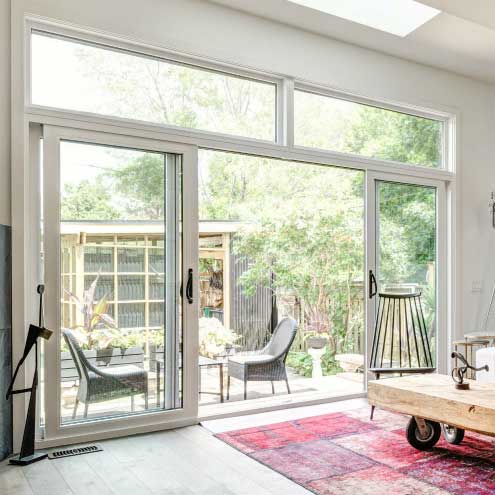 Total Home Windows and Doors, the leading provider of professional windows replacement and installation services in Toronto and the Greater Toronto Area (GTA). With over 15 years of experience, we have built a reputation for excellence and customer satisfaction.
At Total Home, we specialize in transforming homes through our high-quality windows replacement services. Whether you have standard-sized windows or require large bay and bow vinyl windows, our skilled team is equipped to handle any project with precision and expertise. We are using only the best vinyl materials, ensuring that your new windows are aesthetically pleasing, weather-resistant, energy-efficient, and built to last.
You can trust our installation experts to provide valuable advice and efficient service. We have successfully served over 15,000 homeowners, delivering top-notch products, competitive pricing, and high customer service.
We invite you to call our professional window replacement experts at (416) 661-6666 to take advantage of our free, no-obligation, in-home estimate today!

How much does window replacement cost in Toronto, Ontario?
The cost of a replacement window is determined by the size and style you choose. On average, standard windows are priced at $750, while more complicated bay and bow window options can range up to $6000.
For almost the last two decades of operation, Total Home company has built strong relationships with our vinyl window manufacturers. Whenever we receive manufacturer discounts, we prioritize passing those savings on to our customers for energy-efficient windows. This commitment enables us to offer top-quality products at affordable prices, making your window replacement experience both cost-effective and satisfying.
Average window replacement prices Toronto and GTA 2023: 
| Window Type | Avg. Price Min | Avg. Price Max |
| --- | --- | --- |
| Bay/Bow | $2500 | $6000 |
| Casement | $390 | $950 |
| Awning window | $390 | $950 |
| Sliding window | $260 | $790 |
| Single hung window | $270 | $850 |
| Window Location | Avg. Price Min | Avg.Price Max |
| --- | --- | --- |
| Kitchen | $350 | $850 |
| Living Room | $1200 | $2500 |
| Bedroom | $450 | $1200 |
| Basement | $250 | $650 |
| Basement Egress | $1500 | $4000 |
Looking for a major renovation project led by professional installers, Total Home can exceed your expectations. It's crucial to select the right windows company to ensure a successful outcome. You deserve a superior product, competitive pricing, knowledgeable expertise, and the assurance of a worry-free experience for window installation Toronto.
You have the option to choose picture windows to enhance the ambiance of your living and dining rooms. Consider investing in fixed casement windows for the kitchen to create a sleek and modern look. For the remaining areas of your house, you may want to consider using either single or double hung windows, depending on your preferences. By carefully selecting different window styles, you can create a unique and visually appealing atmosphere throughout your home.
At Total Home company, we are dedicated to providing impeccable window installation services tailored to meet the unique requirements of your Toronto and GTA home.
Our Replacement Window Process
Working with the TH Windows and Doors window replacement company in Toronto and surrounding area is easy.
1. Call us at 416-661-6666 (or fill out the form, we'll call you) to schedule a home or business visit.
2. Our window service expert will perform measurements and determine the entire scope of the work.
3. You'll be presented with all the options and a complete understanding of the work being performed.
4. Our replacement windows team returns to perform the work, and you have new windows installed.
Window installation cost calculator
Why Replacing Windows
Is Worth It
Financial Savings: By choosing replacement windows today, you can avoid the effects of inflation for labor hours and ultimately save you more money. Plus, you'll enhance the insulation of your home, resulting in reduced monthly energy bills. This improved efficiency extends to your entire HVAC system, preventing costly equipment repairs in the long run.
Curb Appeal: New windows are the first impression for prospective home buyers. They offer a fresh, clean look and energy efficiency. The increased natural light and consistent temperatures create inviting, comfortable spaces. These desirable features attract active home buyers and make window replacement a compelling choice, enhancing your home's appeal and value.
Comfort & Design: Upgrade your windows for enhanced comfort and exquisite design. Experience improved insulation, noise reduction, and temperature control. You can choose from a variety of styles and finishes to create a personalized aesthetic that complements your home's unique character. Elevate your living spaces with the perfect blend of comfort and design.
Efficiency & The Environment: Upgrade to energy-efficient windows for a sustainable and cost-effective home. Experience improved insulation, reducing energy consumption and lowering utility bills. Enjoy a quieter living space with enhanced noise reduction. By choosing eco-friendly windows, you can contribute to a greener environment while maximizing comfort and energy efficiency in your home.
Warranty: Total Home partners with reputable manufacturers offering warranties on their premium replacement windows. In addition, new windows qualify for energy provider rebates and Ontario's Energy Saving Rebate program. We provide extended or lifetime warranties, addressing any aesthetic defects or functional issues. Invest in quality windows, knowing you'll receive the value and peace of mind you deserve.
Professional Installation:With our professional window installation, you can be confident that your windows will be flawlessly fitted, weather-resistant, and durable for years to come. Avoid costly mistakes and potential property damage. Say goodbye to broken glass, drafty seams, and wall damage concerns. Enjoy peace of mind and a job done right the first time, saving you time and hassle.
 Resolving Window Concerns with Professional Installation in GTA
Damaged Frames: Broken window glass is a clear sign that there is damage and that you need quality replacement windows. A more subtle indication is if you notice that the colour of your window's frame or glass is changing, it's a sign of damage. In this case, you may not feel a draft, but it's very likely that cold or hot air is penetrating into your home.
Stubborn Mechanisms: Opening, closing, and locking your windows shouldn't be difficult. If it's getting increasingly difficult to perform these functions, either the window frame is warping and binding the mechanism, or the mechanism itself is breaking down.
Drafts & Energy Bills: A cold draft in the middle of winter is fairly obvious. However, smaller window and entry doors leaks are harder to detect. Keep an eye on your utility bills and an ear on your furnace and air conditioner. If your energy usage continues to climb or if your equipment runs nonstop, it's a strong indication that your windows are faulty.
Outside Noise:Windows are meant to keep pollution from entering your home, including noise. It will be difficult to identify the problem because it will get gradually worse over time. Take a mental note or actual recording of the noise level when you first install new windows. If the level increases, faulty windows could be to blame.
How to Save Money on New Home Windows Toronto
Depending on the age and condition of your existing windows, replacement windows can save you upwards of 40% on your monthly bills. Considering how much inflation has increased in recent years, this can quickly add up to offset the cost of your replacements.
Drafty windows are not energy efficient. They wreak havoc on your HVAC system, leading to frequent repairs and early replacement of your furnace and A/C unit. Avoiding these unexpected costs with replacement windows can be of substantial value.
Beyond savings, some energy companies offer up to a $200 rebate per window. Ontario's Energy Saving Rebate program offers an additional $5600 in rebates for each household, greatly offsetting the cost of Toronto window replacement.
How the Type of Window You Chose Can Help Determine the
Average Cost to Replace Windows in a Home
Casement
Average Cost Range 390$ – 950$ (per window)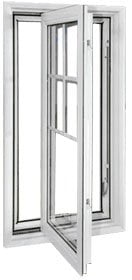 Casement windows are an inexpensive option and can be designed to fit any home, making them one of most popular options in Canada.
Low Maintenance:
Simple hinge and crank mechanisms make Casement windows easy to operate and super easy to keep clean. Regular light cleaning will keep these windows operating properly for years.
Weather Tight:
Energy efficiency isn't just about saving money. A properly installed casement window will prevent condensation and drafts, keeping your indoor temperatures consistent and comfortable. Canadian summers and winters bring drastic weather, which can run a toll on our mental wellbeing. Our sturdy designs are just what you need to accommodate the shrinking and swelling that your home goes through each season. A comfortable temperature makes working from home more efficient and spending time with the family more enjoyable.
Security:
Total Home never compromises on material. The quality of your window's frame, glass, and locking mechanism all play a role in how secure your home is from intruders. Casement windows are a popular choice for many homeowners due to their security rating and performance.
---
Awning
Average Cost Range 390$ – 950$ (per window)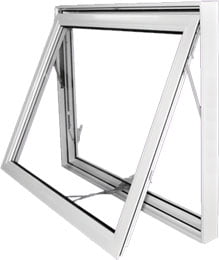 Awning windows are a simple yet highly efficient design. Hinged at the top and opening at the bottom, awnings can be opened in the rain without getting wet. Trendy features combined with low costs are making this option increasingly popular for Canadian homeowners.
Energy Efficiency:
Engineered with glaze, spacers, and inert gas, this style of new windows are highly effective at protecting your home from the elements. Preventing outside air from leaking into your home drastically reduces how often your air conditioner and furnace have to work.
Security:
Awning glass is difficult to get through and offers extremely durable locking mechanisms and hardware. This is one of the most secure window options.
Ventilation:
The shape of the window opening provides superior airflow. With an outward swing, the window itself offers natural protection from the rain, making it a practical choice in any weather.
---
Bow and Bay
Average Cost Range 2500$ – 6000$ (per window)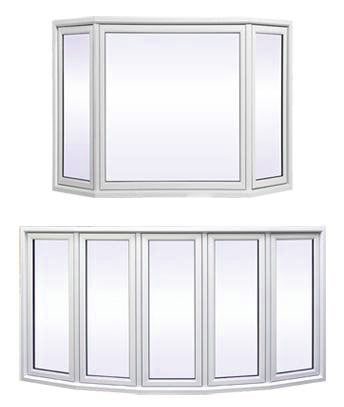 Bow and bay windows are a highly desirable feature in Toronto and surrounding GTA. They have the ability to make your rooms seem much larger than they are, provide additional space and a lot more natural sunlight.
The primary difference between the two is how many panels they have. Bays feature a three-window design while bow windows have four or more. Unlike other styles, bow and bay windows have fixed panes which cannot be opened or closed. They usually also require an overhang with shingles. This is important to consider if you are installing bay/bow windows into a new space as it will add to your construction costs.
Benefits of Bow and Bay:
Sturdy, fixed-position glass to prevent noise and drafts
Maximizes the amount of natural sunlight from multiple angles
Large glass panes with minimal obstruction of an outdoor view
Highly stylish and highly desirable feature for any homeowner or Toronto home buyer
Highly engineered and energy efficient to prevent condensation, keeping your energy bills low
---
Single and Double Hung
Average Cost Range 270$ – 850$ (per window)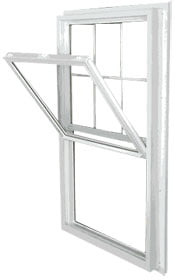 Single or double hung windows are among the most cost effective options on the market. They are also stylish, provide excellent insulation, and do not compromise on security. This classic style is very popular throughout the GTA.
Single and double hung windows , similar to awning windows, open vertically. The differentiating factor is that only the bottom pane opens. Historically, this option has resulted in leakes due to the physics behind opening from the bottom. However, modern manufacturing and installation practices have greatly reduced this issue. Both single and double options consist of durable glass and are equipped with rugged hardware.
Benefits of single and double hung:
Minimal condensation
Superior protection from outside weather
Ease of use, minimal effort for children and the elderly
Minimal maintenance and cleaning
Easily removed screens
Ideal protection from noise pollution
Ideal natural access to sunlight and ventilation
Benefits of Vinyl Windows:
Durable and study, vinyl offers UV, stain, and scratch protection offering both longevity and ease of maintenance.
Vinyl windows come in a wide variety of colours and styles, making it easy to match any homeowner's personal taste.
A professional installation process is always recommended for long lasting quality, but vinyl windows are very forgiving, making them an ideal option for homeowners with DIY aspiration.
Rated with a high R-value. Vinyl windows are highly effective at protecting your home against noise pollution. This is a desirable feature in high-traffic Toronto neighborhoods.
Vinyl is only modestly affected by hot and cold weather, with minimal shrinking and swelling. This provides the highest levels of energy efficiency.
Working with Total Home Windows and Doors is always a smart choice. Whether you are improving your home for your own enjoyment or preparing for a home sale, you can always count on great pricing, expert installation, and top quality products. The benefits of new windows and doors are clear. The benefit of working with Total Home is reliability. With over 15 years of experience and over 15,000 successful installations, we've set the standard for customer service. Call us today for your Free on-location Estimate.
Complete Service:
Total Home doesn't stop when new windows are installed. As Toronto'a best window replacement companies, we provide all of the finishing touches and leave your home as clean as before we arrived.
Energy Efficient:
Total Home exclusively works with Canada's top Energy Star manufacturers to ensure that we exceed energy cost and environmental standards.
Professionally Trained Installation
Total Home treats every customer as a VIP. Our installation crew is competent, quick, clean, and always takes the time to answer your questions. Impressing you is our business model.
Frequently Asked Questions About Windows
What time of year is best to Windows installation in Toronto?
Late spring through early fall is the most common period of the year to have replacement windows installed.
However, if cost savings is your priority, consider the winter months. A professional window installation company is familiar with how to protect your home from cold and damage, and modern materials work just as well in lower temperatures. Since this is the window installation off-season, discounts are likely available.
Should I replace all my windows at once?
If you can budget for it, YES!
When you replace all of your windows at once you reduce labor hours. That means less overall cost. Beyond that you're ensuring that all materials, styles, and designs match perfectly, and you'll start your energy cost savings all at once. It just makes sense.
Which option is cheaper when replacing windows?
The real answer is, it depends. Many homeowners choose to do an entire project all at once. But this is sometimes cost-prohibitive. Changing a few or even just a single window at a time will increase labor costs over time. But, the immediate cost is obviously much lower.
If this is the route you are taking, make sure to choose simple designs that will be easy to match in the future. Like most things in the renovation business, new designs and technology frequently replace last year's models. Make sure that you don't put yourself in the position of having to choose new windows that don't match or having to replace a perfectly good window.
We would be happy to help you choose an affordable option to increase the value of your wonderful home
Call Us Today! 416-661-6666
Benefits of Vinyl Windows:
1 Vinyl windows are highly durable and sturdy. Thus, they will last for many years and require little to no maintenance as they are UV, scratch and stain resistant.
2 Today's vinyl windows are available in a wide array of finishes and colors, which gives you the option to have them customized to meet your style needs.
3 As vinyl replacement windows are easy to install, they will not require expert know-how to put them in if you cannot afford a professional contractor or wish to do your home renovations yourself.
4 Vinyl windows have a higher R-value, so they are perfect for those who wish to reduce noise pollution.
5 Highly energy efficient, they have superior insulation properties because they are constructed of polyvinyl chloride material, or PVC.
15+
YEARS of EXPERIENCE
15000+
INSTALLATIONS
9.9/10
HAPPY CLIENTS