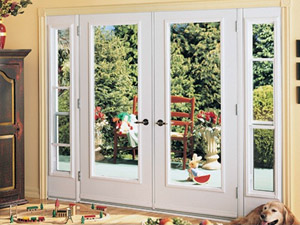 High Quality Garden Doors
A garden door is not just a door but also a window through which you can view your beautiful garden. A garden door not only serves as the entrance to the garden area of your house but also can provide full length window ventilation with the window side being easily operational. It can also be cleaned easily. Many houses and lower level apartments in Toronto have these doors leading to a beautifully maintained garden which doubles up as a living area.
Garden doors are a double doors with the full size inserts . Garden door is a convenient option because it opens on both sides providing a large space for people to move in and out freely. If you wish to move any large item through the door, you can do it easily with the French garden door. These doors come with glass inserts and these can be decorated to render an appealing look. French garden doors with glass can become beautiful pieces of home décor items as well.
Strong, Durable and Stylish
Garden doors that are manufactured and sold at Total Home Windows and Doors are strong, durable and stylish. Our collection of garden doors will make you fall in love with them. The aluminum clad-sill, compression weather stripping with magnetic components help in protecting against harsh weather. The panels of the garden doors are made of steel that is primed and galvanized and injected with polyurethane foam along with wood stiles and rails to provide a thermal break. Garden doors can come with elliptical, half-rounds and transoms combined.
Exterior sliding screens or retractable screens can be provided to our manufactured garden doors.
SELECTED DESIGNS (MORE DESIGNS ARE AVAILABLE)