Total Home Windows and Doors sells high-quality replacements windows in Barrie and throughout Ontario. We carry a wide variety of vinyl windows, including casement windows, awning windows, picture windows, single-hung windows and more.
Our vinyl windows offer you a low-maintenance, attractive option that will also lower your energy expenses. You'll save money with the lower-cost investment, and you'll compound your savings year after year with lower energy costs you will pay each year.
If you are looking for windows replacement in Barrie, we are the windows company for you. It is our mission to provide you the best value windows for your budget, helping you to get the best quality at a price you can afford. We believe in the quality of our products so much that we offer a lifetime warranty on all our windows and doors, with no limitations. We offer one of the best warranties in the industry, and we match it with some of the best service.
Total Home Windows and Doors is also committed to providing the best prices. Send us a written estimate from a competitor, and we will beat their price by a minimum of 5 percent. We'll also exceed the service you would get from them.
Reasons to Replace Your Windows Barrie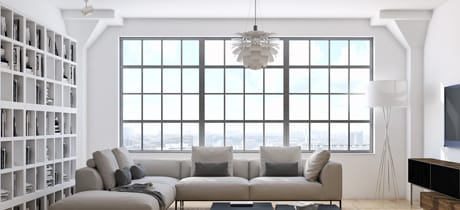 If you have never replaced your Barrie windows and doors before, it can feel a bit overwhelming. Any time you are involved in home renovations you will need to work with several parties from contractors to interior decorators to installers and so forth. Whether you are simply replacing one window or renovating your entire home, you can be a bit confused as to where to start.
That's where the experts at Total Home Windows and Doors come in. No matter if you are replacing your windows because you have to due to general wear and tear or you simply want to completely renovate your home, we can provide you with high quality custom designed windows and doors.
Windows Barrie:
Improve the overall appearance and curb appeal of your Barrie and the surrounding cities of Mississauga, Brampton, Oakville. 
Replace any windows that are damaged or in need of replacement due to aging
Decrease air leakage and condensation
Lower your annual energy costs
Increase the resale value of your home
Enhance your home security
Provide superior insulation to keep your home warm in the winter and cool in the summer
Add custom design features such as enhanced locking mechanisms, decorative glass options and stylish window grills.
We have a wide selection of window from which to choose from to include bay and bow window, awning windows, casement windows, single or double hung windows and single or double slider windows. We manufacture all of our own windows as well as provide expert installation by a certified professional windows installer. This can save you a great deal of time and money on costly repairs in the future due to poorly installed windows.
Following are some reasons why it's wise to replace your doors Barrie:
Improve the energy efficiency of your home those lowering your energy costs
Prevent condensation from forming
Reduce uncomfortable drafts
Greatly improve your home security system
Improve your curb appeal
Increase your resale value
Give your home a new look and feel
We also manufacture all of our entry doors as well, including patio doors, French style doors, fiberglass doors, wooden doors and steel doors. We can custom design your entry doors to match the exterior of your home. As well, we offer additional features such as security lighting, enchanted locking mechanism for added home protection and decorative glass inserts for your windows.
All of our produces are protected with a limited extended warranty should you have any problems in the future. We will handle your Barrie windows and doorsreplacement from start to finish: from offering expert advice as to the best doors and windows for your home, to manufacturing and custom designing the best products on the market to quality professional installation.
Contact Total Home If you are ready for a total window replacement, contact us today to find out about our latest promotional offers and to set up a consultation for your home. Our friendly and knowledgeable professionals are ready to exceed your expectations for service and quality. Browse our selection to see the quality replacement windows we have to offer.
Call: 705-302-7110 | 1-855-893-7328
Windows Barrie Reviews