What You Should Know About Pickering Window Replacements Company
At Total Home Windows and Doors, you can buy the highest quality replacement windows to upgrade your home's look and performance. Whether you have purchased an aging home that you want to renovate or you have lived in your home for a long time and need an update, our windows can help you get the results you need.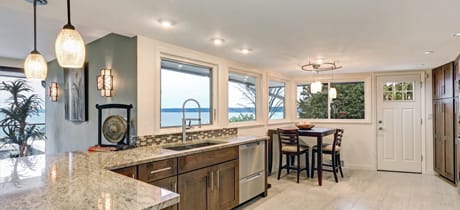 Vinyl windows provide many benefits for your home. Their design and materials create more powerful insulation for your home, helping you to lower your energy costs and to create a more consistent internal temperature. Not only will you save a lot of money, but you'll also create a better quality of life in your home.
Vinyl windows don't just improve your home's performance. They can also improve the look. They come in a wide variety of styles that can help you achieve any design you are trying to achieve. Replacing your windows can create a bigger impact than you think on the look of your home, both inside and outside.
We vow to offer the lowest prices on replacement windows in Pickering. If you get a lower offer from another windows company, bring it to us and we'll beat it by at least 5 percent. With our exceptional service and our lifetime product warranty, that's a deal you can't beat.
Pickering  Windows Replacement: How To Make Home More Energy Efficient
As the years go by, homeowners becoming increasingly concerned with the rising cost of their heating and cooling costs. As such, they are looking to purchase more energy efficient Pickering windows and doors to help lower their energy bills and keep their home at a comfortable temperature
Thus, it is important to look for energy efficient window installation Pickering Ontario when it is time for home renovations. Although shopping for replacement windows can feel like a daunting task, it can have a lot of benefits for you home, including saving your money on your monthly bills and increasing the insulation properties of your home.
Following are some options to look for in window installation Pickering to help make your home more energy efficient.
Low-E Glass
Low Emissivity or Low-E Glass is a type of coating that can be applied to windows that repels the heat away from your home. This will be a blessing for those brutally hot summer days one experiences in Pickering. As well, this will be beneficial during the winter months as it will help retain the heat in your home.
Aesthetic Appeal
Our windows Pickering can greatly improve the look and feel of your home. Then not only frame your view to your outdoor spaces, but they add a feeling of warmth and comfort to both the interior and exterior of your home. If you are in the market to replace your windows, you should take the time to look at the many style options that are offered here at Total Home Windows and Doors.
Shop for windows that match the architectural style of your home. If you have an older home, single or double hung windows are a viable option. However, if your home is more contemporary in style you can opt for casement or awning windows. And to really boost the aesthetic feel of your home, you can opt for bow or bay windows for an unobstructed view and unlimited natural lighting for any room of your home.
Improve the Look of Your Home
Simply have new windows installation Pickering can really do a lot to improve the look of your home. As well, it can drive up the resale value of your home. Prospective buyers look at many things when they are in search of a new home. This includes "move-in-ready" features such as updated doors and windows, as this can save them money on costly repairs. As stated previously, new windows can spruce up the look of your home, thus making it attractive to new buyers. And if you throw in the fact that your windows are fully insulated and highly energy efficient, you could win them over by telling them how much money your windows have saved you on your energy costs.
So, as you can see, there are many reason to install windows Pickering in your home.
Contact Total Home Windows and Doors
for entire home improvement needs, our highly knowledgeable and friendly staff is always willing to answer your questions. We look forward to doing business with you.
Call: 289-274-7020 | 1-855-217-0866
Pickering Windows and Doors Reviews
We were thrilled with our experience with Toronto Doors and Windows. From start to finish, the staff we dealt with were helpful, honest and upfront about expectations. Price was reasonable, and installation was completed over 2 days with very little disruption in our busy house. (7 windows and new front door).I would highly recommend Toronto Doors and Windows. Thank you! - William Jackson - 2 weeks ago
I did thorough research on window companies near me before deciding on Total Home. Their over the phone service was professional and respectful, while their on the job service was performed well and their productivity remained high. Thank you so much for your assistance. - Gurmin Saltun - 1 month ago
We recently had all our windows and two doors replaced in our home. From the very beginning we felt we had made the right choice with Total Home Windows and Doors and now with the work complete we couldn't be any more thrilled with the result! Customer service, professional installation, product quality are all top notch. - Adea Leka - 1 month ago
Total Home Windows and Doors is the best. Total professionals and they do outstanding work at a very reasonable price. They repaired a rotten casement window and it works like new! If you need to have windows repaired or replaced, Total Home Windows and Doors is the company you can trust to do a fantastic job! - William Thorn - 1 month ago
I couldn't get enough of my newly installed windows from Total Home Windows and Doors. They were perfect for my living room, providing great light and also it is very classy. I love the design. I might purchase another set for my kitchen. I will definitely replace all the old windows in my house now with yours. - Matthias Leon - 1 month ago