When it comes time to renovate your home, you may only think it in terms of curtains, paint and decor. However, you should not forget to include your windows and doors Whitby in the remodeling process as well. Windows replacement can make a huge effect on the overall look and feel of your home.
Replacement windows in Whitby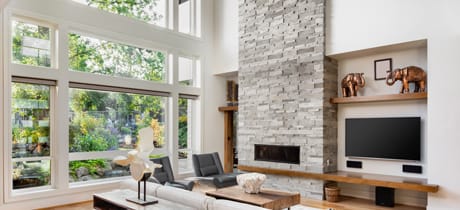 Total Home Windows and Doors in Whitby can not only help you achieve a new look for both the interior and exterior of your home; they can also save you a great deal of money on energy bills. Our Canadian windows  and doors are manufactured to be highly energy efficient. They provide superior insulation and will protect your home from harsh weather conditions. Imagine all of the money you will save on your monthly utility bills.
At one point, you may wish to sell your home and we are sure you want to get the best return possible on your investment. If you have installed new doors and windows replacement t in Whitby, you will vastly improve the curb appeal and overall value of your home. New buyers are looking for homes that are not only energy efficient, but stylish as well. We can make a custom design that will match your home. You can choose from our large selection of entry doors as well as a large selection of bay windows, casement windows, awning windows and much more!
At Total Home Windows and Doors, every item is durable and affordable. We strive to have the best rates on doors and windows replacements services in Whitby. If you find a lower rate from another company, we will match their price. As well, we offer a lifetime warranty on all of our products. As well, we have the best installation service in the GTA. We take pride in our work and we want you to take pride in your home!
Best Replacement Windows Comany in Whitby?
Free in-home consultation
Savings of up to 30% on your monthly energy bills
In-house financing with the option of zero down payment
All of our products are designed to meet the highest standards
We will dispose of your old doors and windows at no additional cost to you
Superior customer service
When it comes time to change your interior design, do not hesitate to call us at Total Home Windows and Doors. Our staff is waiting to help you with all of your home renovations need. Call us for a free consultation. We can offer you advice on what type of doors and windows replacements in Whitby will work the best for you home. If you are ready for a brand-new look for your home, give us a call! We look forward to working with you to improve your curb appeal and protect your home during the harsh winter months!
Contact Total Home Windows and Doors for entire home improvement needs, our highly knowledgeable and friendly staff is always willing to answer your questions. We look forward to doing business with you.
Call: 289-274-7020 | 1-855-217-0866
Windows Whitby Reviews
This is the second time that I have used Total Home Windows and Doors and I was very pleased both times. Daniel (sales/estimator) was professional and did not try to upsell us into a product that we did not need. The installers were also professional, friendly, and left the work area clean. All in all an excellent experience.
They replaced 2 windows for us over a year ago and they did a great job with the installation. Their pricing is very reasonable. I had another window company quote replacement windows recently and they were almost double the cost! We will definitely be calling Total Home Windows and Doors when we are ready to replace the rest of our windows!
We were referred to this company from friends and are very pleased with the experience. Customer service in the showroom was great. I had a few quotes done and Total Home Windows and Doors was the best and offered the most! I couldn't be happier and recommend them to anyone looking for a supplier of windows or doors.
The Total Home team is very professional, courteous and timely. Much care and respect was given when removing and installing windows, the team was clean and always ensured our house and yard was tidy before leaving at the end of the day. Quality of windows and doors are five stars.