TH Windows and Doors Georgetown
Phone: 416-661-6666
Toll Free: 1-855-550-0610
Total Home Windows and Doors  providing supply and installation services in Georgetown. Total Home has a passion for delivering and installing replacement windows and doors Georgetown for you and your family. Total Homes Windows and Doors offers only high performance, energy efficient products as we are an Energy Star® Canada Certified Partner. Calling on our team to install doors and high-quality vinyl windows will provide your home and family with security, energy efficiency, comfort, and style. New windows and exterior doors also help lower your energy bills. Our wide selection ensures that you can match any existing style or make any modern design dreams come true.
Replacement Windows in Georgetown
Windows and doors Georgetown from Total Home Windows and Doors are engineered for the highest quality, security, ease of use, style, and value. Our installation experts have been working in the area for 15 years and have earned a 5-star review from our customers. We supply all GTA and surrounding areas: Сaledon, Brampton and Milton.
The most significant reason for window replacement Georgetown is to make your home more energy efficient. A broken window is obvious, but even the smallest warps and cracks can degrade weather protection over time, allowing drafts and outside noises to invade your home. You'll find that your furnace is on more often than it needs to be and that your energy bills are excessive. 
Of course, that's not the only reason to replace your windows. New windows can have a dramatic effect on your home. They give the appearance of a clean, well maintained house and they allow more natural light into your living space. Our selection of windows allow you to choose between many different colors, materials, and styles. Beautiful looks, comfortable space, and a history of below-average energy bills are all desirable traits to home buyers.
If you think Total Home Windows and Doors Georgetown is the right company for you, fill out our quick form for a free estimate!
Map of
Georgetown

Windows and Doors Installations!
A Common Reasons to Replace Windows
The paint is cracked
The frames are warped
There's a noticeable draft when it's windy outside
It's far too easy to hear outside noise
Your cooling and heating bills are higher than they ought to be
You struggle to open and close your windows
These are all signs that your windows are no longer air tight. There's a chance that they can be repaired, which is something that we assess during a free consultation, but usually the better long-term solution is to replace them.
Read More
Windows Replacement Prices
| Window Type | Avg. Price Min | Avg.Price Max |
| --- | --- | --- |
| Bay/Bow | $2500 | $6000 |
| Casement | $390 | $950 |
| Awning window | $390 | $950 |
| Sliding window | $260 | $790 |
| Single hung window | $270 | $850 |
| Window Location | Avg. Price Min | Avg.Price Max |
| --- | --- | --- |
| Kitchen | $350 | $850 |
| Living Room | $1200 | $2500 |
| Bedroom | $450 | $1200 |
| Basement | $250 | $650 |
| Basement Egress | $1500 | $4000 |
7 Big Reasons to Replace Exterior Door
Broken or Damaged Door
Maximize energy efficiency
Give a fresh new vibe
Boost the security
Protecting your health
Accessibility
Less Maintenance
If you desire any of these options, it is time to update the entry of your home with a new exterior door! Total Home licensed and insured team can add security, appeal, and value to your home with a superior front door replacement.
Read More
What makes Total Home Windows and Doors different?
Energy-efficient windows that require zero maintenance to look brand-new regardless of the time passed.
High-quality windows that are custom-designed inland to meet and exceed the requirements of the standard.
30% savings per month in energy bills.
In-house consultation at no cost
Less service calls, less replacement fees, and lower monthly bills all add up to a big improvement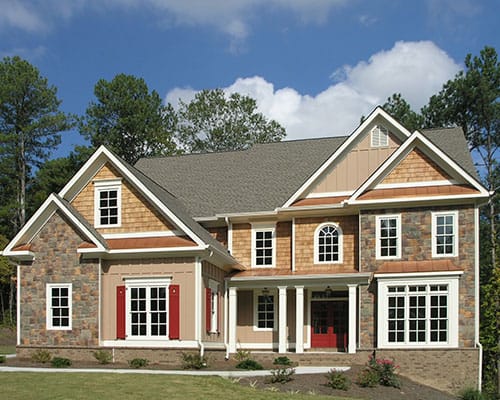 Visual Upgrades:
You would be surprised how drastically new windows can change the appearance of your living space. The right windows will let in more light, make your space look much newer, make your space look bigger, and can even enhance your particular design style.
Curb appeal:
The first thing that a prospective home buyer notices about a house is the overall impression, and windows play a major role in this first impression. New, clean windows make the home looked cared for and secure; two major aspects that home buyers are looking for.
Comfort:
The sound of the furnace kicking in is noticeable. The feeling of a cold draft is noticeable. The feeling of a much warmer space in your house is noticeable. New windows remove these inconvenient things that we've learned to put up with over the years.
Maintenance
Having windows that are easy to clean is nice, but it's much more significant than that. You'll notice a drop in your annual heating and cooling expenses and you'll also be extending the lifespan of your furnace and air conditioner since they won't be kicking on and off so often.
Exterior Doors Georgetown
Work with Total Home Windows and Doors and it's easy to understand the value of expertly installed exterior doors Georgetown. Solid steel doors or fiberglass doors contribute to your home's overall security and influence how you feel as you leave or return home. Patio doors and garden doors feel much better when they are easy to open, close, clean, and maintain. 
Our exterior doors are Canada's top quality, and we are constantly adding to our catalogue. Find materials, colors, sidelites, decorative glass, hardware, and accessories to suit any style. This dedication to style and quality leads to exterior doors that achieve traditional or modern styles and function just like new for decades.
Providing and installing dependable exterior doors Georgetown is what drives our team. Contributing to the security and comfort of your family, saving you money on energy bills and HVAC repairs, and raising the value of a home sale brings us a sense of pride. We have been providing and installing exterior doors to the area for 15 years and have generated a 5-star review from customers. We attribute this to our dedication to quality products, accountable customer service, expert installation skills, and competitive pricing.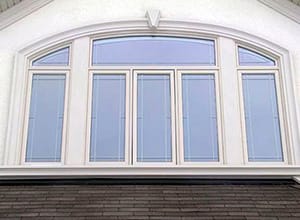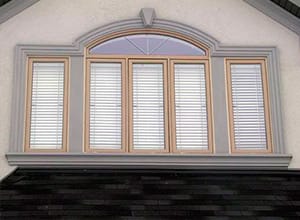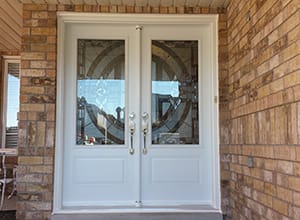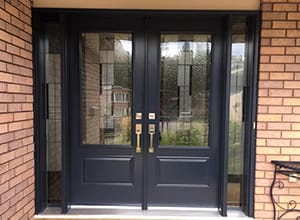 Contact Total Home Windows and Doors for entire home improvement needs, our highly knowledgeable and friendly staff is always willing to answer your questions. We look forward to doing business with you.